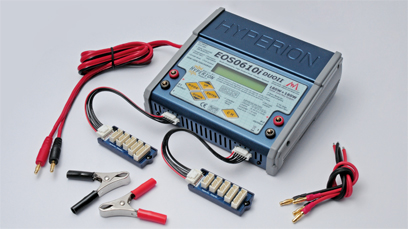 Warnings:
The EOS 0610i DUOII is a carefully-designed charger with many builtin safety features, such as reverse polarity protection, input voltage error warning, and cell-count mismatch warnings for lithium chemistry batteries.
HOWEVER, IT IS THE RESPONSIBILITY OF THE USER TO INSURE T HAT THE CHARGER IS CONFIGURED AND USED IN A SAFE MANNER IN PROPER ENVIRONMENT.
Always be sure that the charger is properly configured for

the correct battery type

Be sure that your lithium battery pack balance connector

matches the multi-adapter type connected to the charger.

SYNC MODE charging should start with packs at nearly equal

discharge states (see more details in text)

Be sure that the batteries you charge are capable of

charging at the rate you select

Never charge batteries unattended

Charge only in a fire-resistant environment, non-flammable

surfaces such as on concrete or brick

Do not charge near easily flammable materials

Do not charge batteries inside a model

Charging outdoors is recommended whenever practical

Use only high-quality gold 4mm bullet connectors for charge

output cable connection to the charger. See "setup"

Properly insulate and regularly inspect all connectors to

eliminate the possibility of short circuit. Damage caused by

output short circuit is not covered by warranty.

Never allow the charger case to contact an AC/DC power

supply case while powered

Do not drop or cause other shock to the charger, nor subject

it to moisture, condensation or liquids

Do not attempt to charge battery packs made from different

types of cells, a mixture of old and new cells, or cells made

with chemistry not supported by the EOS 0610i DUOll

NEVER attempt to charge "non-rechargeable" cells

Do not open the case of the charger under any

circumstances. Doing so will void the warranty

Keep the charger away from children or pets at all times.
NEVER ATTEMPT TO CHARGE A SINGLE BATTERY ACROSS BOTH PORTS.

(example: a "single unit" 10S pack) DOING SO WILL DAMAGE THE CHARGER, BATTERY, AND WILL VOID YOUR WARRANTY.

DUOll is designed to charge single packs up to 6S max.

For flight packs larger than 6S, DUOII supports SYNC MODE charging of two packs to make a single series-wired flight pack. (so 2x2S=4S up to 2x6S=12S series flight packs are possible)

PUT SAFETY AHEAD OF ALL OTHER CONSIDERATIONS!

SEEK MEDICAL ATTENTION IN EVENT OF ANY INJURY!
Specifications &. Features:
180W Per Port for 360 Watts Max CHARGE Output

0.1A to 10.0A max Charge Current in 0.1A steps

50W Per Port DISCHARGE with l0A Max Current

STORE MODE allows fast and simple discharge to 60% capacity for proper storage of Lithium Battery types = longer battery life.

Charges/Discharges 1 to 6 cells Lithium Polymer Batteries Per Port
(3.7V/cell nominal types)

Charges/Discharges 1 to 6 cells Lithium Ion Batteries Per Port

(3.6V/cell nominal types)

Charges/Discharges 1 to 6 LiFeP04 (A123) cells

(UFeP04 3.3V/cell nominal, A123 3.3v support)

Charges/Discharges/Cycles 1-16 cell NiCd/Ni-MH in three modes: Normal, Linear, and Automatic

Charges/Discharges 1􀂚12 cell Lead Acid Batteries (Pb, 2V/cell)

Allows Lithium-Type batteries to 50,000mAh and PB (lead/acid) batteries to 100Ah capacity

Two built -in Hyperion LBAIO/300 Balancers with l0A max rating and 300mA max balance rate/cell

TCS - Terminal Capacity Selection

Rich Data Displays during and after charging and balancing

PC Port for Data Logging and Firmware upgrades

Temperature Sensor Ports

& Temp Stop settings*

Wide Voltage Input Range llv􀂚28v for higher efficiency when charging high-voltage packs, and compatibility with a wider selection of AC/DC power supplies

Power Supply Amperage Control to allow reliable charging with lower-output power supplies

Power Supply Voltage Control (PS Load Control) works in concert with Amperage control to insure the charger does not overload your power supply

Adjustable Power Sharing % between Outputs

Input Cable with 4mm Male Connectors

+ Clamps

Output Cable Set Included, with 4mm Connectors

Two, Integral, Thermostat-Controlled Cooling Fans

Rugged Aluminum case with Insulating End caps

2-Line, 16-Character, Yellow Backlit LCD Data

Display. Highly visible in all conditions

Total of 20 User-definable Memory Positions

Firmware upgradable via Win PC **

•

Temp sensors available separate: #HP-EOSTMPSEN or EOS121Oi-SEN

••

Firmware upgrades require USB Adapter #HP-T1-PRGUSB and harness

#HP-EOS06-PCCBL. Firmware upgrades will only become available if and when improvements are identified in future.

HIGH RISK CHARGING ADVISORY

Avoid charging batteries indoors. If you must charge indoors - or any place injury

to persons or damage to property could occur in the event of fire - then be sure to:

*

Keep battery well away from flammables (2 meters or more)

*

Contain battery in a heavy fireproof container (such as a brick box)

*

Always monitor the charge

HYPERION ACCEPTS NO RESPONSIBILITY FOR DAMAGE OR INJURY FOR INDOOR

or other HIGH RISK CHARGING ACTIVITY